It's all about time!
Are you looking for a powerful time tracking solution for your team? Do you need to calculate the worked time till seconds? Do you need automatically generated reports on time? It doesn't matter whether you are an employer, a CEO, or a freelancer searching for a time tracker! We are going to provide you with our all-in-one time tracking tool – an excellent solution for professionals. Moreover, it's FREE. Benefit from its premium features. Why does our tool stand out in a crowd, and how does it change your working approach?
1. Simple and Easy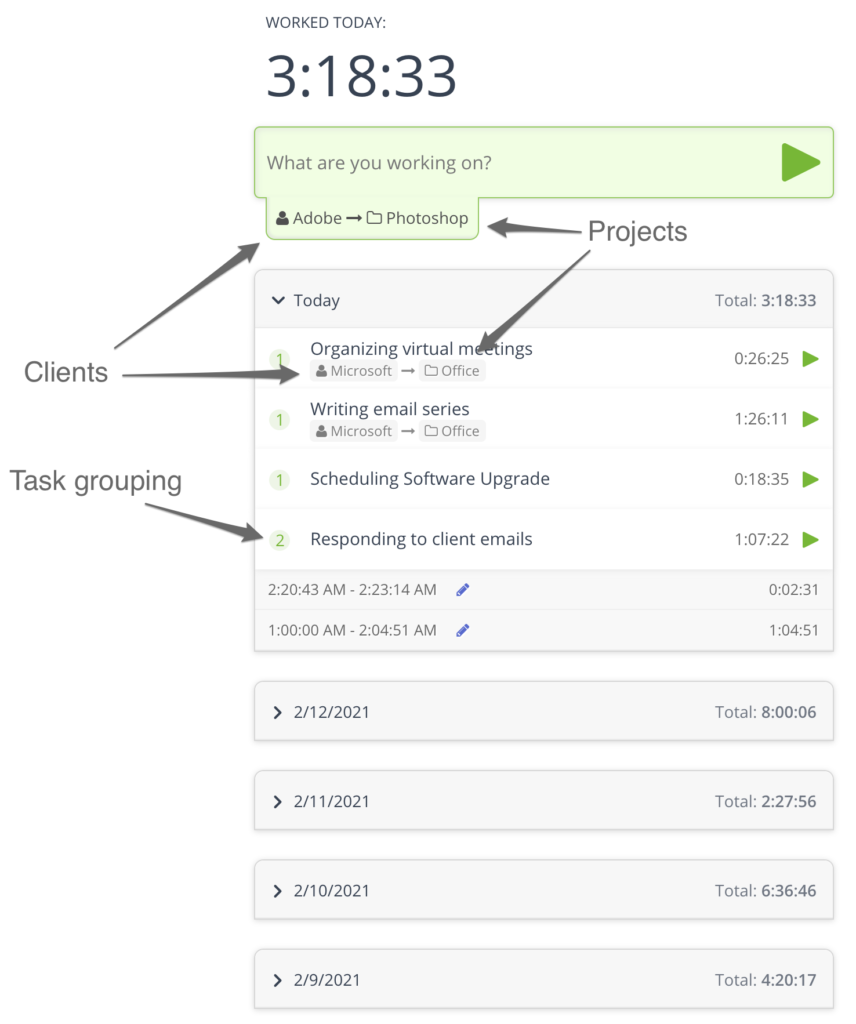 It's simple and easy to track the team's working time. In such a way, you will make your team more productive and focused on achieving the target. You just need to press the green start button when you start working on a specific task and then press the red stop button when you finish the task. Moreover, using time tracking software, you can work for different clients and projects.
2. Accuracy
The accurate time tracker tracks efficiently the hours across your project, clients, and team tasks. Everything is calculated till seconds, no more manual calculations. The LogWork time tracker provides real-time data, being exempt from committing mistakes. The reports are generated based on the data provided by the time tracker.
3. Intuitive Dashboard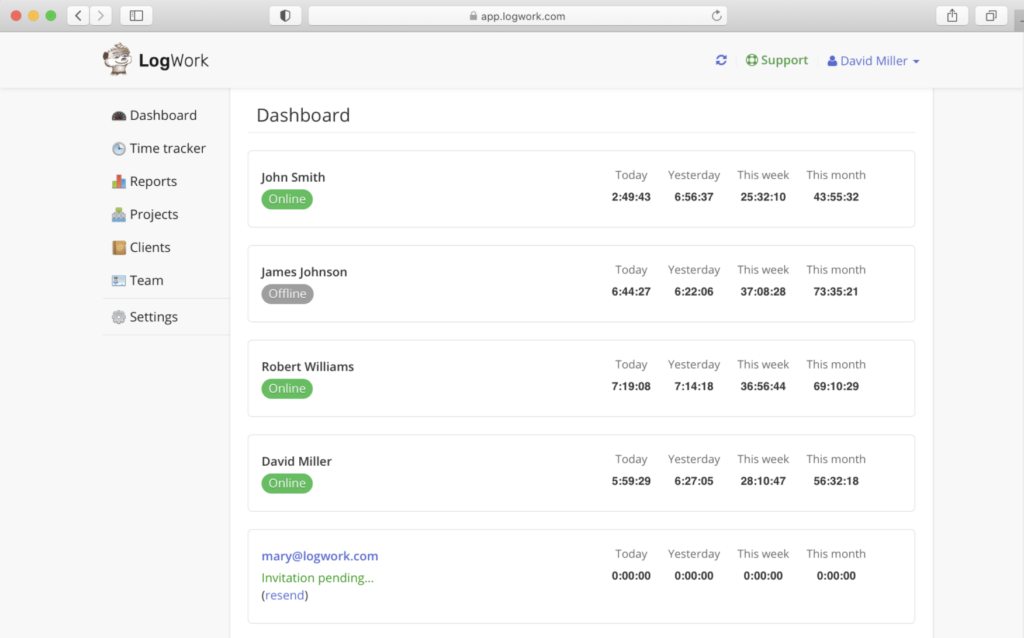 Due to its intuitive dashboard, it is possible to see who is working and who is not at a particular moment. It also displays 4 categories of time worked: today, yesterday, this week, this month. This fact lets you analyze if the employee has overtime hours, or on the contrary, the employee did not reach the number of hours worked per month. In such a way, the time tracker will help you calculate correctly the payroll.
4. Automated Online Time Tracker
This automated online time tracking tool is much more efficient than simple Excel timesheet. Some of the weak points of using Excel timesheets include errors due to manual adding of data, delayed information on hours worked, etc. For more information, read our blog post – Excel Timesheet Templates vs. Online Time Tracking Software. Pros and Cons to Decide Which One Suits Your Business.
5. Mobile-Friendly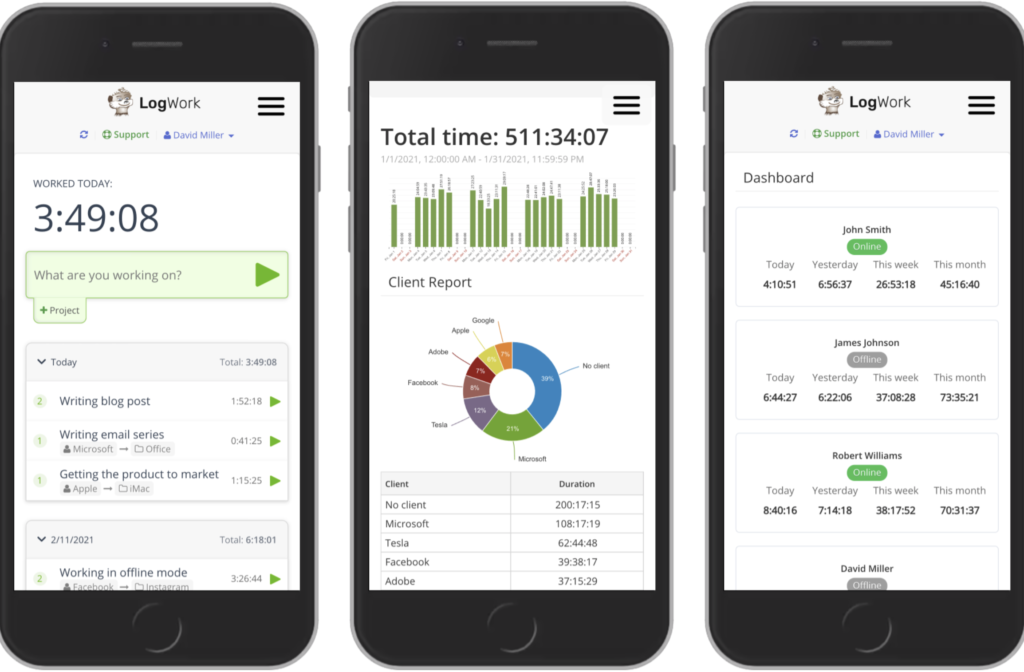 LogWork time tracker is mobile-friendly. So, you can work using your phone, being anywhere, waiting in a queue or sunbathing on the beach. Keep in mind that time is money!
6. Comprehensive Reports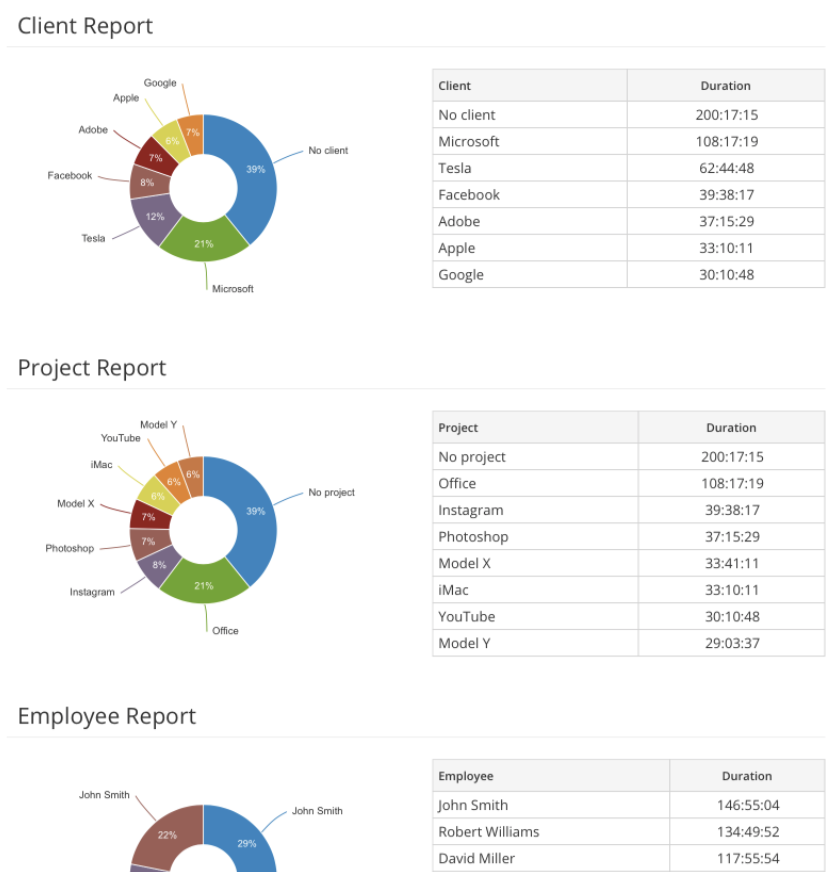 Make use of LogWork comprehensive reports to keep a record of the working hours or present your time worked to your customer for payroll reasons. Thus, the working process becomes optimized, informative, and transparent. Moreover, in the reports, you will be able to see the percentage of time spent on a certain project, deciding which project has required more time to be accomplished.
The worked time is associated with particular tasks, projects, and clients. The total time worked is calculated automatically when the reports are being generated. LogWork generates 5 types of reports:
Client Report
Project Report
Employee Report
Description Report
Timesheet Report
7. Interactive Timeline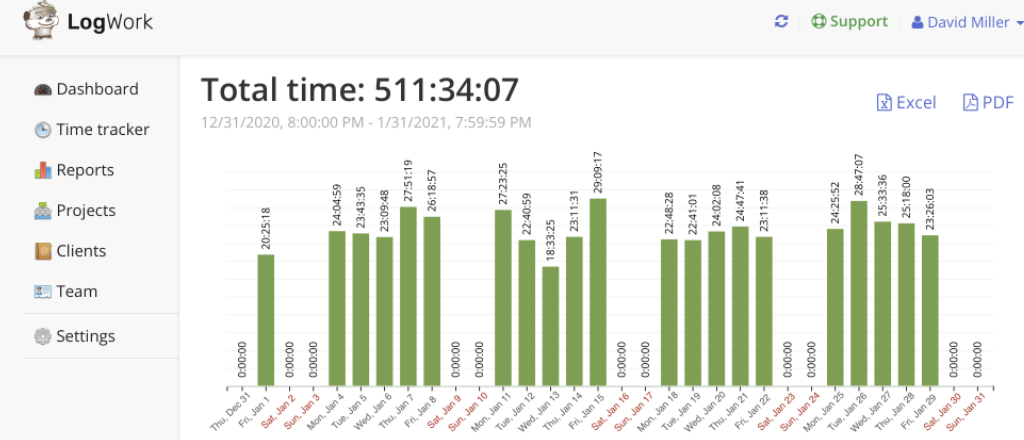 The interactive timeline offers helpful insights related to the time worked daily during a whole month. You can also get a broader analysis for various working days since LogWork stores the data for 2 years. However, as a client, you can delete the data if you want.